an integrated digital business platform to run your business

COMMATE is modular, scalable and most importantly easy to use digital platform that makes work more fun!
COMMATE arsenal of modules for each business functions makes it unique as whole business operations can run on one platform. The modules offered by COMAMTE are : Finance/Accounts, CRM, Sales, Purchasing, Inventory, Human Resources, Payroll, Projects, Production/Manufacturing, Fixed Assets, Transportation and more…
COMMATE runs on cloud and empowers the business to be accessible from anywhere. Thus, providing remote work possibilities with the same trust as work-in-office.
COMMATE with it's fully integrated, transparent business platform helps business work efficiently, effectively and take the right decisions in timely manner.
A solution for every industry
COMMATE is designed to work for a variety of industries. With modular architecture and flexibility to create additional modules, COMMATE can be used literally for any industry!
Business 360
With the seamless integration of COMMATE's modules, you can direct your attention towards your business while leaving the tasks of collecting, managing, and presenting reports to COMMATE, which handles the heavy lifting on your behalf whenever required.
A complete HR system that starts from On-boarding to separation and anything in-between, all is covered!
On-boarding/Recruitment Management
Employee Management
Document Management
Leave Management
My Requests Management
Training Management
Promotion Management
Delegation Management
Annual Objectives
Management Annual
Appraisals Management
End of Service Management
Vacation Settlement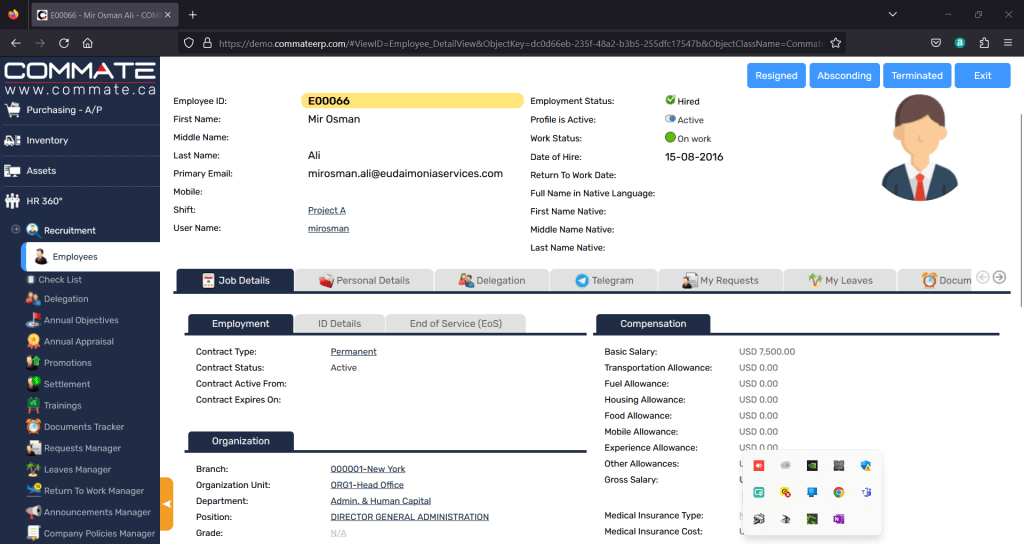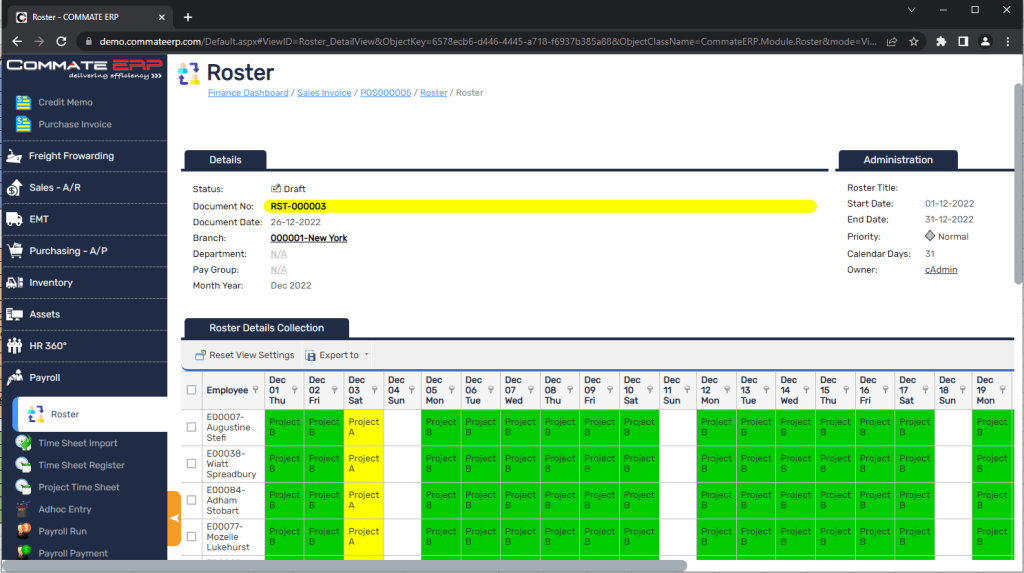 Tasks such as calculating wages, bonuses and generating payslips can be automated with COMMATE
Time & Attendance Management
Roster & Shifts Management
Payroll for Employees
Payroll by Site/Office
Adhoc Entries in
Payroll Run
Payroll Payments
PDF Payslip with Encryption
Parameterized Payroll Setup to support local compliance
Import Data from Excel – Adhoc Entries 
Import Data from Excel – Timesheets
Employees will be able to manage & track their requests in real-time, say bye to paper work and hectic follow-ups.
Leave Requests
Other Requests
Expense Claims
Pay Slips Repository
Document Repository
Personalized Calendar
Tasks & Reminders
Personalized Dashboard
Self-Delegation
Annual Objectives
Annual Appraisals
Access to Company Policies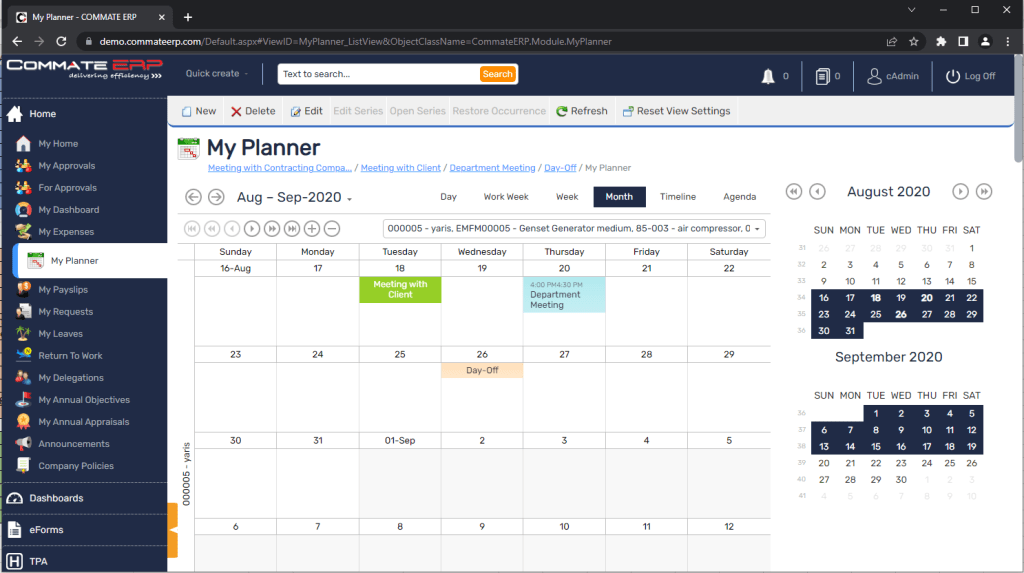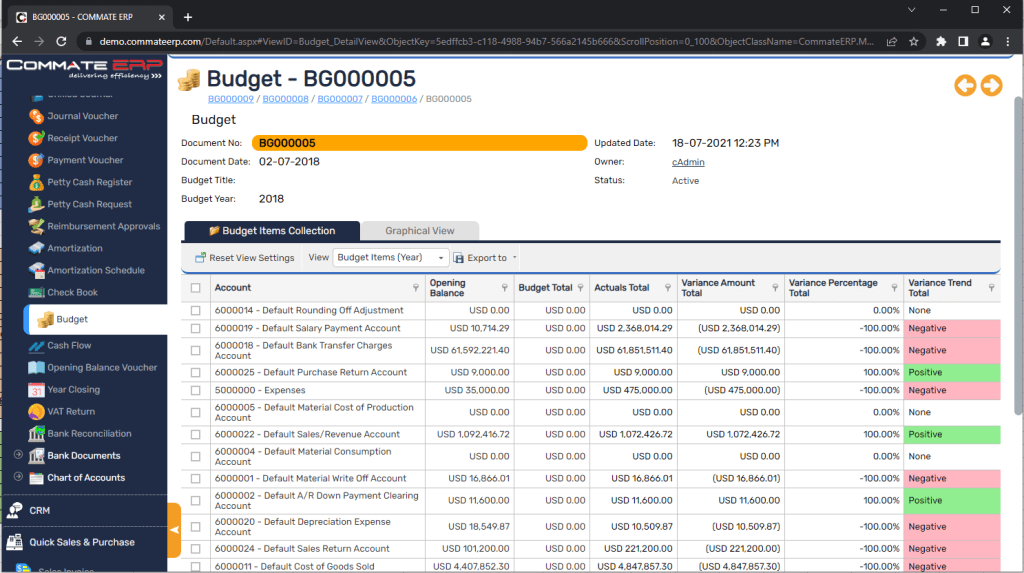 A complete and tightly integrated finance management helps you ease your day-to-day financial tasks.
General Ledger
Journal/Payment/Receipt Vouchers
Accounts Payable (A/P)
Accounts Receivable (A/R)
Aging Accounts
Multiple Cost Centers
Budge Management
Cash Flow Management
Expense Claim Management
Petty Cash Management
Check Printing
Manage Multiple Bank Accounts
Issue Letter of Credit / Letter of Guarantee
Reconcile Transaction with Bank
Bank Letter Templates for quick action
With just one step taken in creating a Sales Order simplifies the rest of the process of Invoicing, Delivery & Payments. And with the Approval workflows embedded it moves the business faster than before.
Comprehensive CRM
Sales Orders
Management
A/R Invoicing
A/R Down Payment
Invoicing
Material Delivery
Material Returns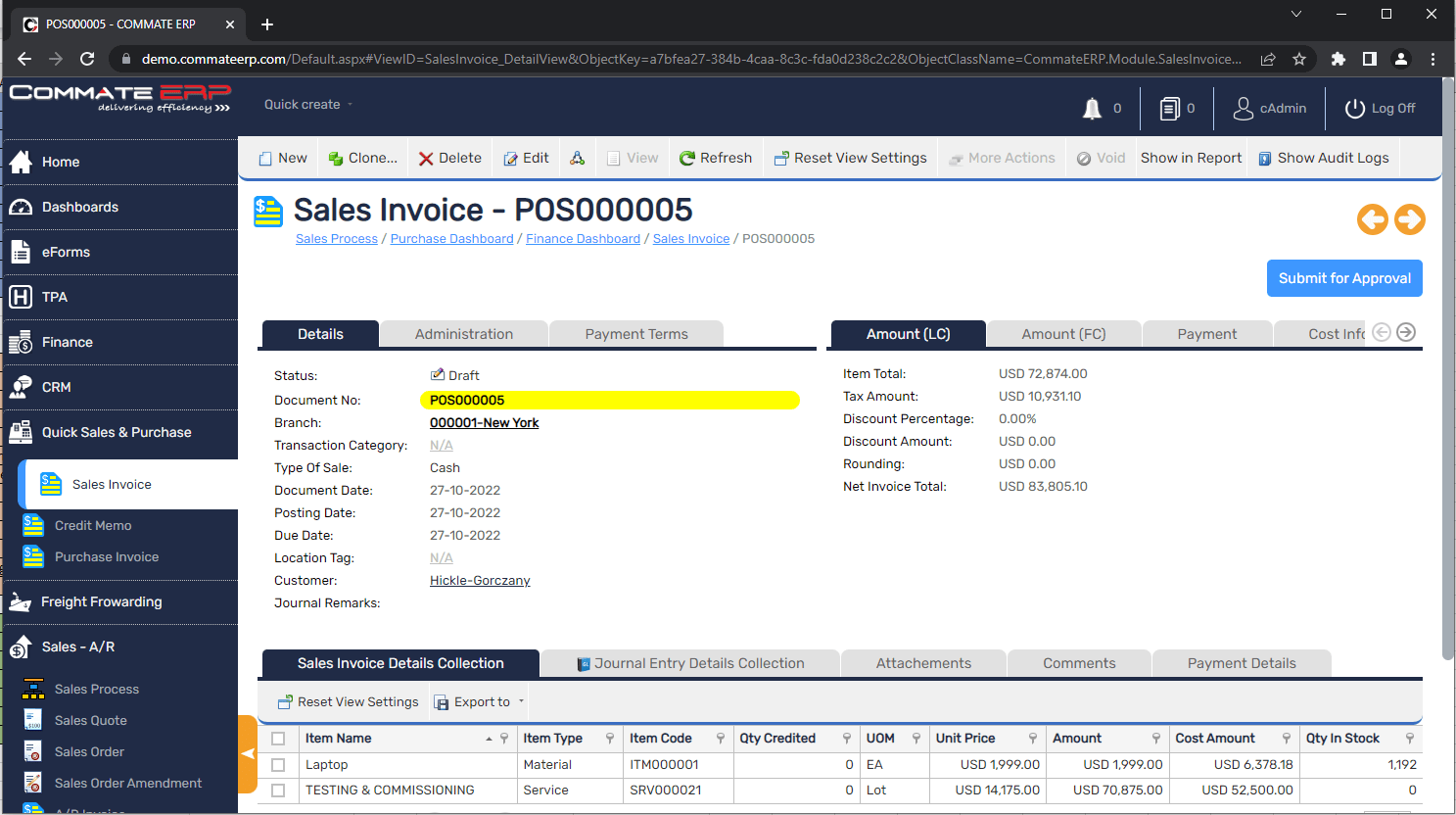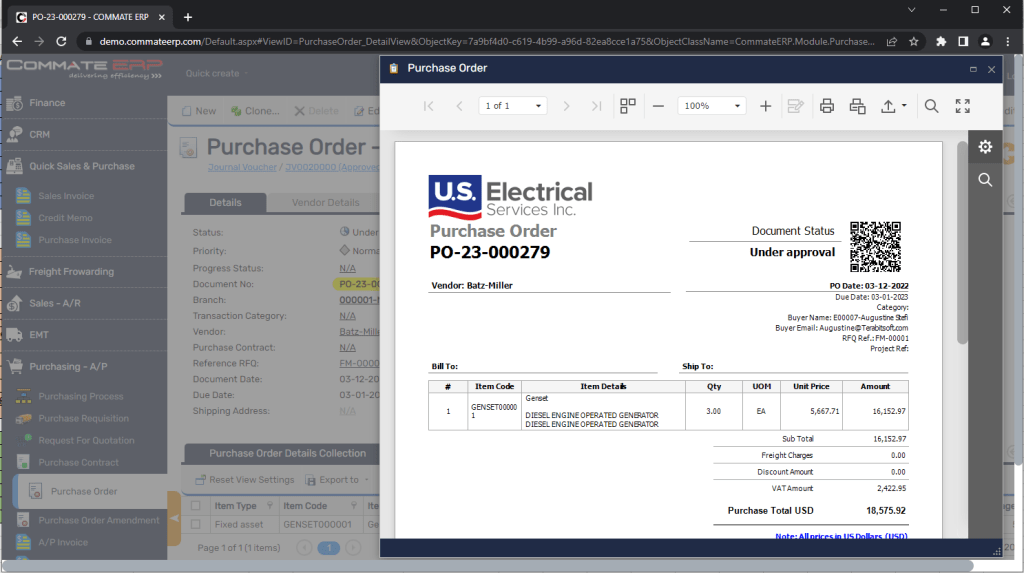 Procurement Management comes with a set of tools that helps you manage purchasing of the real world, receive partial shipments, pay partial invoices to suppliers, and more…
Request for Quotation
Material Request
Purchase Request
Purchase Orders
Management
A/P Invoicing
A/P Down Payment Invoicing
Goods Receipt
Goods Returns
Dashboards, KPIs & Reporting
Intuitive Dashboards translates data into meaningful information that helps you take quick and effective business decisions.
CRM Dashboard
Sales Dashboard
Purchasing Dashboard
Finance Dashboard
HR Dashboard
Create KPIs on fly
Pivot Charts on fly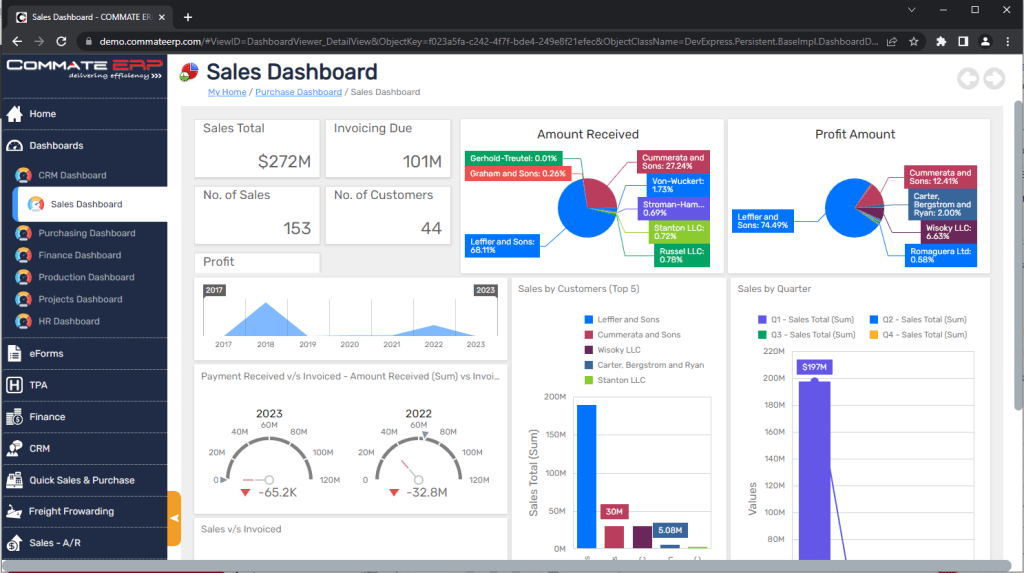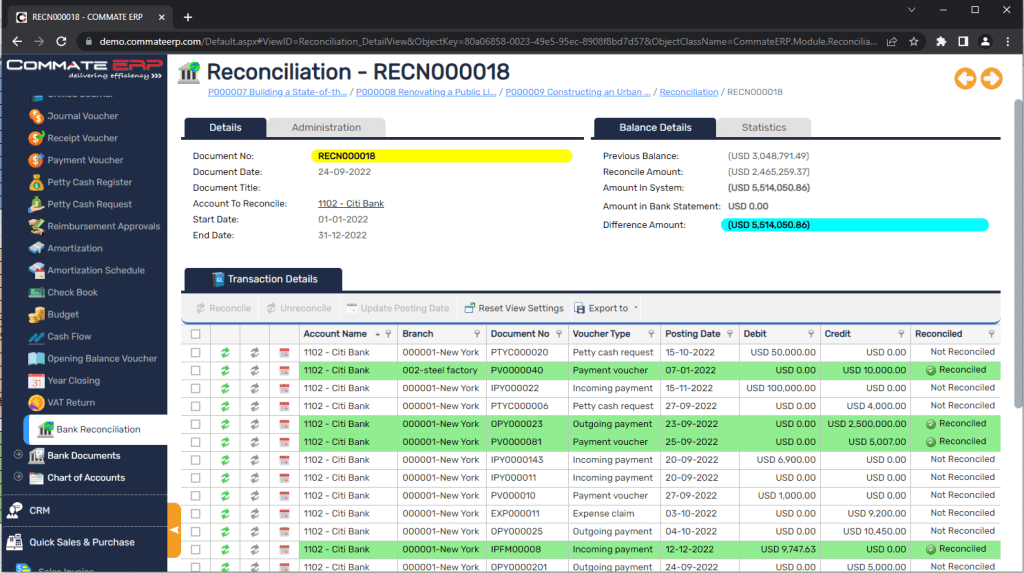 All financial transactions are fully compliant with local tax regulations and make VAT/GST/HST returns a breeze.
Generate Tax returns
Create Tax categories as per your local regulations
Tax Return report includes detailed transactions that support returns
Extremely powerful yet easy to use workflows. With Workflows the business process gets automated and you can focus on business development rather than process.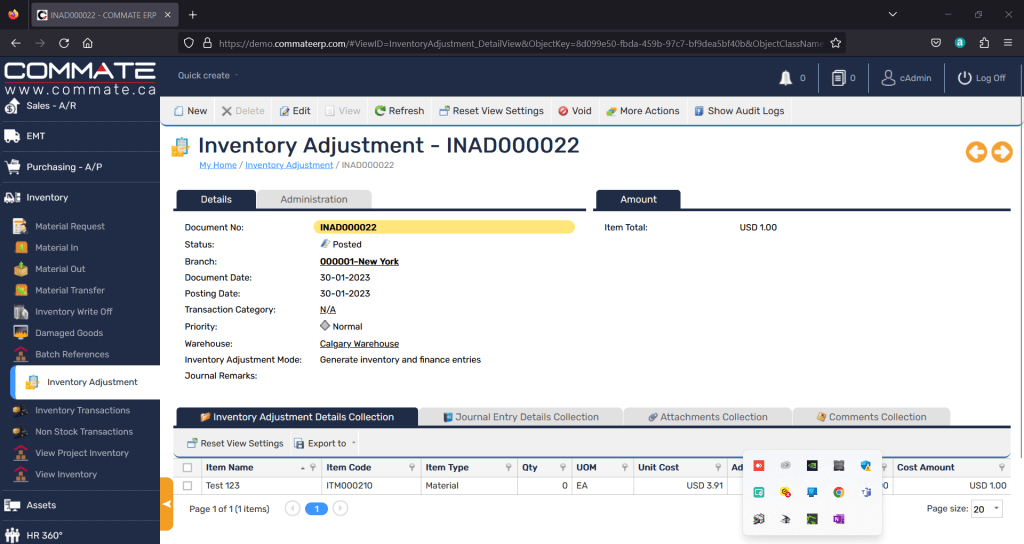 Transparent Inventory is the key for business success, with multi warehouse capabilities, FIFO, LIFO & Average Costing methods you are covered for any business challanges.
Multiple Warehouses
Internal Transfers
Material In/Out
Damaged Goods Management
Inventory Write-Offs
Inventory by Project/Sales Order
Batch & Expiry Date wise Inventory
Multiple UOM
Detailed Inventory Transactions
Production is complex but the solution to manage it has to be simple, this is exactly what we provide in our Production Management Module. Simple yet very powerful.
Production Request
Production Order
Raw Material Requisition
Final Goods Delivery
Quality Control Checks
Manage Multiple BOMs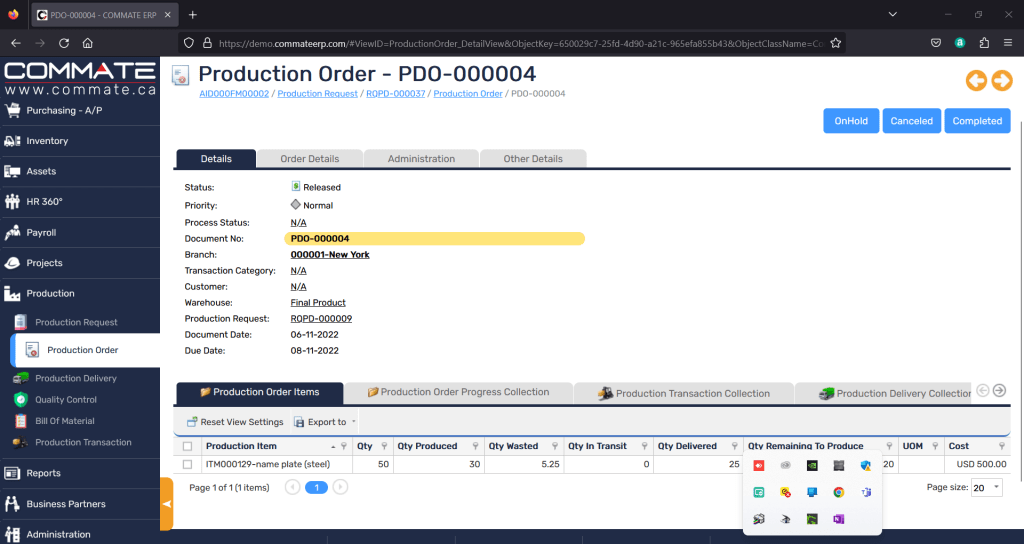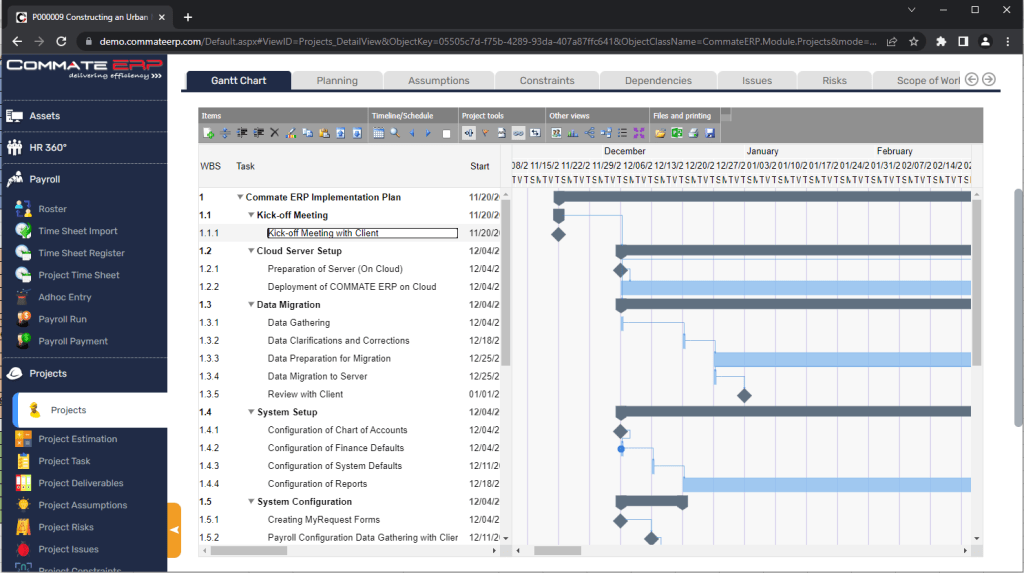 COMMATE's Project Management provides a high-level management tool that performs essential tasks for most companies in a simple yet powerful and effective way.
Create Multiple Projects
Create Project Plans using Gantt Charts
Track Project Process on Gantt Charts
Allocate Resources to Projects
Multiple Sites in a Project
Google Maps to show Project Sites
Managing and tracking Fixed Assets has always been challenging but with our Fixed Assets Management you can relax.
Assets Inventory & Tracking

Assets Assignments

Assets Maintenance

Assets Depreciation
Assets Amortization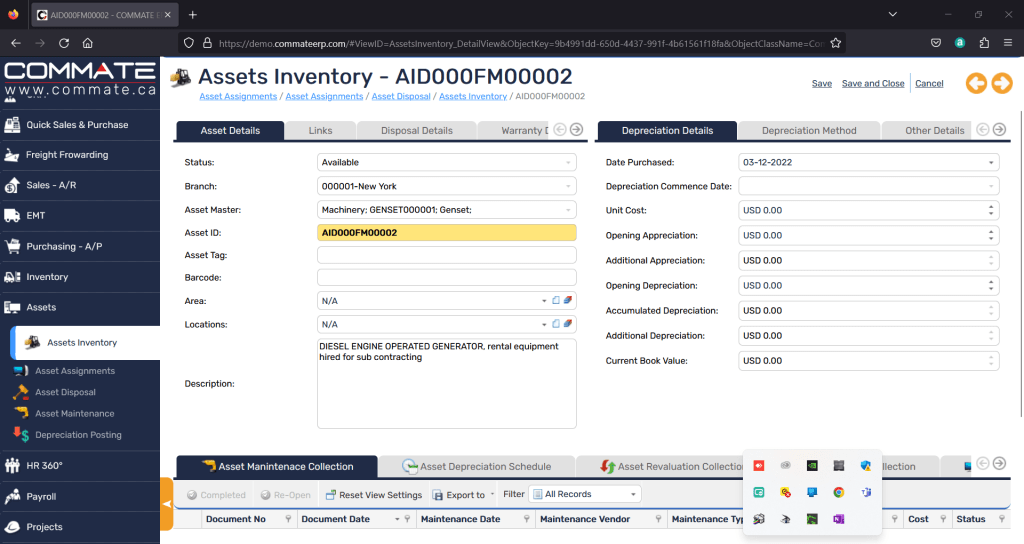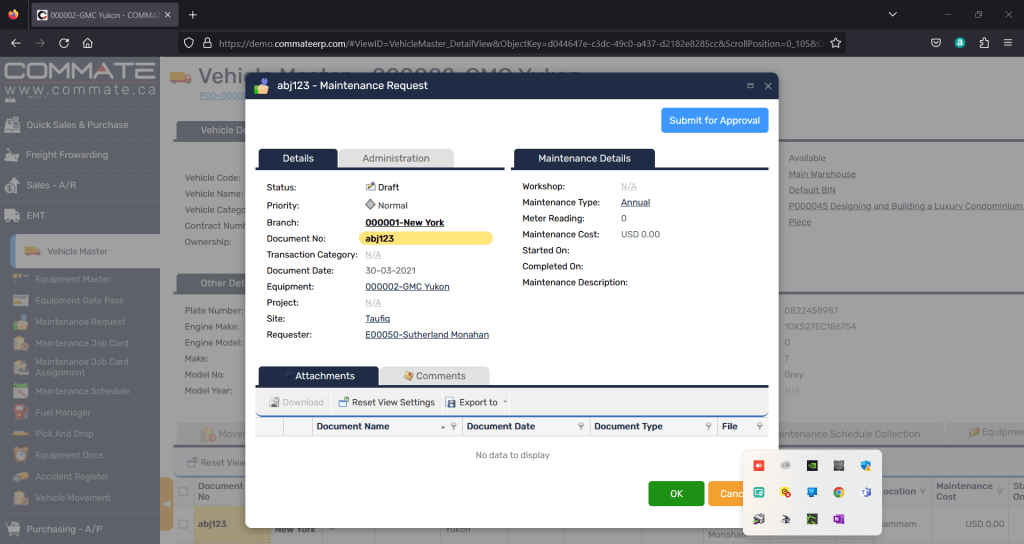 Manage your equipment & vehicles efficiently and keep them up-to-date using our EMT module.
Create & Track Maintenance Request
Create Maintenance Job Cards
Assign Jobs to team
Maintenance Schedule
Equipment Gate Pass
Track Equipment/Vehicle Movements
Accident Register
Fuel Manager
Equipment & Vehicle Document Management
Complete End-to-End solution
We provide a complete solution that meets your business objectives. COMMATE helps you manages your business from a single integrated platform that is secure and easy to use.
COMMATE is built on proven web technologies that make it robust and run literally on any OS or any browser. It is a ZERO client installation product that just needs a browser to run the business!
Cyber secured by design
COMMATE has been designed keeping cybersecurity in mind, it strongly takes care of many type of attacks thus making it robust and resilient. We help businesses make the digital transformation a breeze and with the Cybersecurity-by-Design incorporated in COMMATE, you can securely access your business anytime, anywhere!
RESILIENT TO DDOS ATTACKS
RESILIENT TO SQL INJECTIONS
RESILIENT TO CROSS SITE SCRIPTING ATTACKS
RESLIENT TO MAN-IN-THE-MIDDLE ATTACK
RESILIENT TO REMOTE CODE EXECUTION
WE ADD VALUE TO YOUR BUSINESS
Our clients have gained efficiency, transparency, mobility and many more advantages by running their business on COMMATE. Whether you are a business owner or a manager or an employee of a company, COMMATE will help you get more than what you have been getting today.
Million Transactions Passed
Users are accessing COMMATE
Get in touch with us and we will be able to help you understand COMMATE and show how you can increase efficiency of your business operations!