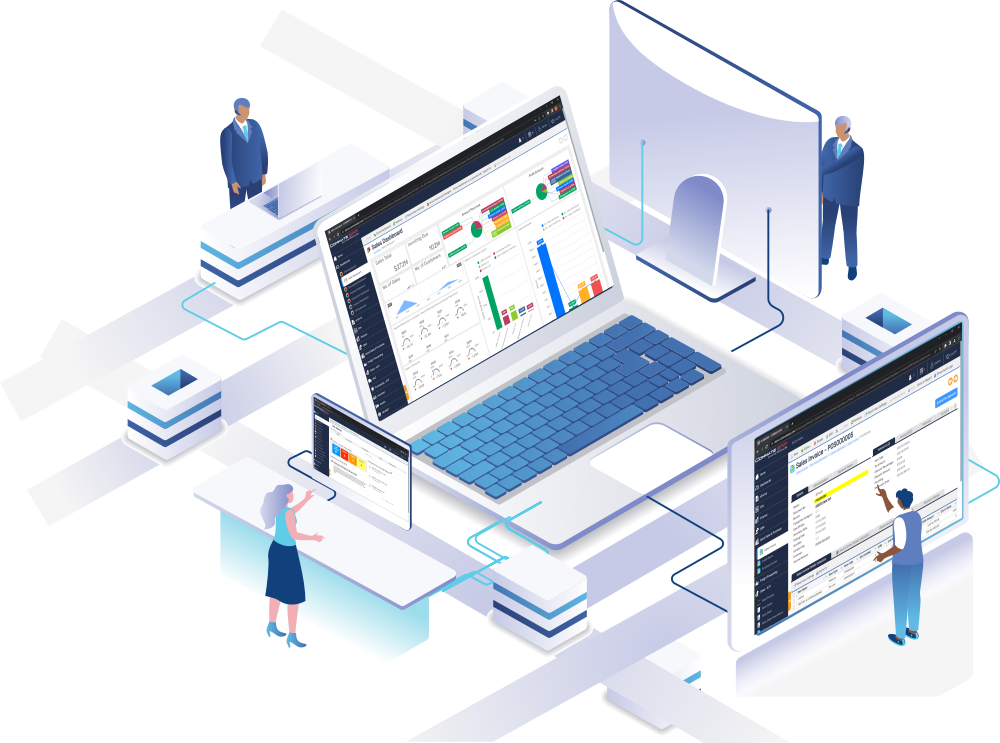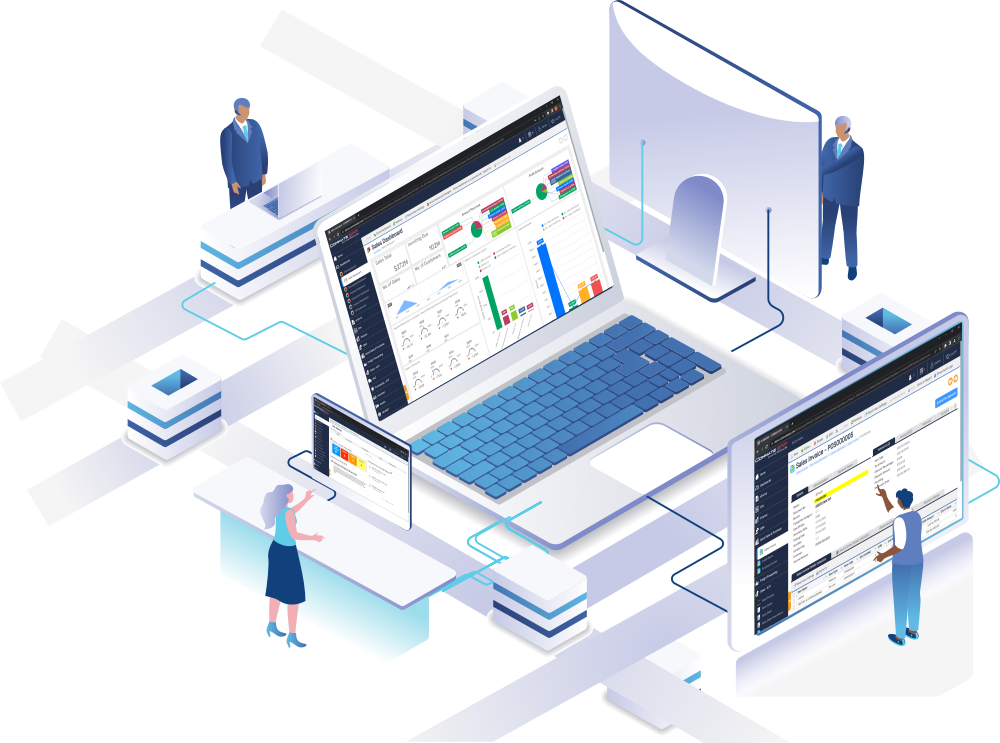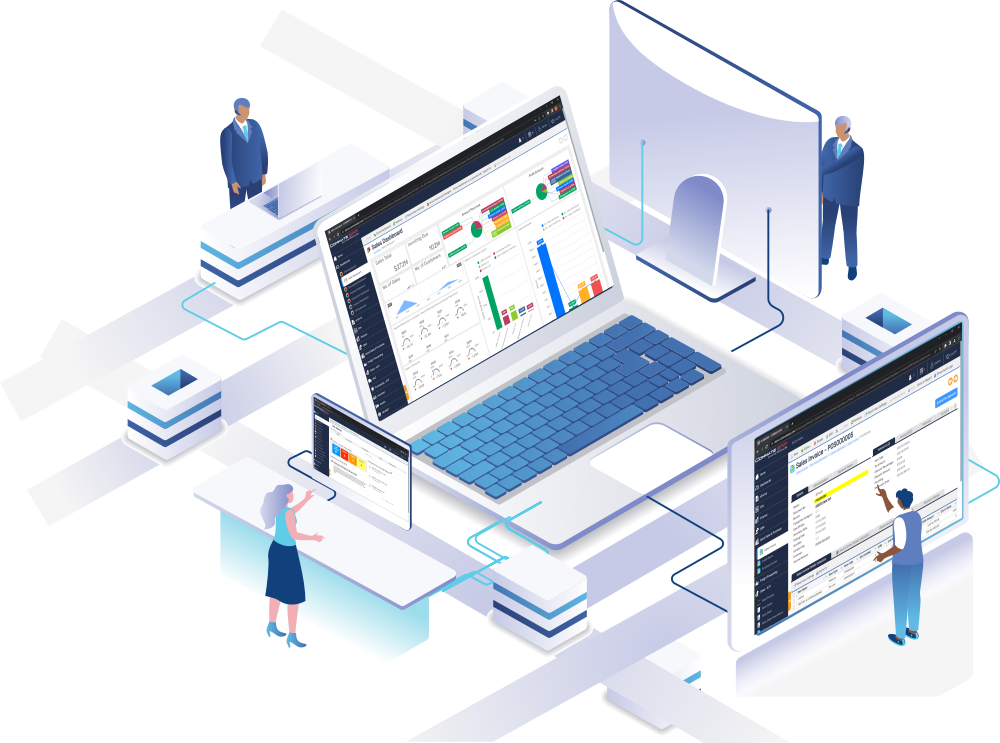 Slide 1

Unbeatable Rapid Rollout within 6-8 weeks.

Are you looking to switch to new ERP but worried about the extensive implementation time it may require?

Accelerate Your Success Journey & Achieve Excellence with COMMATE, rapid standard implementation & rollout in just 6-8 weeks.
Slide 2

Modular Architecture Beyond Compare
Need to switch to new ERP but worried about the disruption during the transition period?

COMMATE unveils a dynamic modular architecture, your ultimate solution for adapting to evolving business needs & to keep your business ahead in a world of changing requirements & challenges.
Slide 3

Are you hesitant to switch to new ERP due to its costing?

Affordability & Innovation unites at COMMATE, giving you an edge that others can't match. Advanced features at an affordable price!
Challenges faced by Companies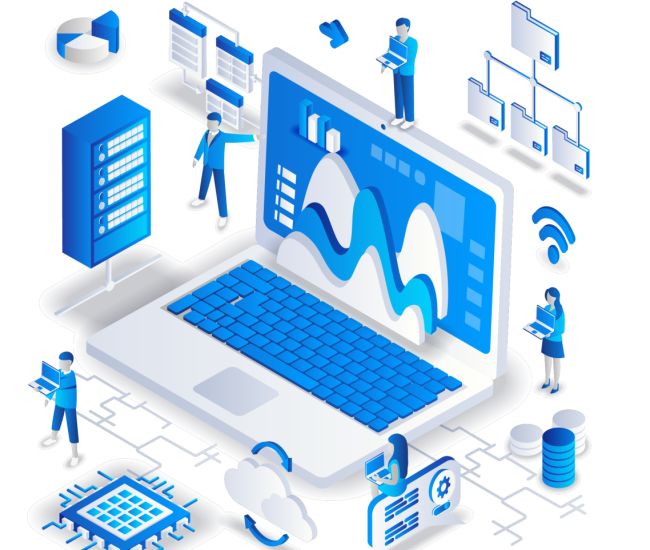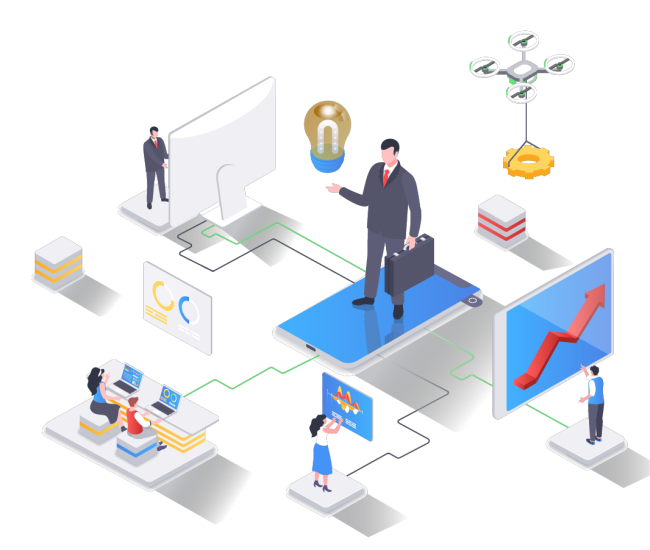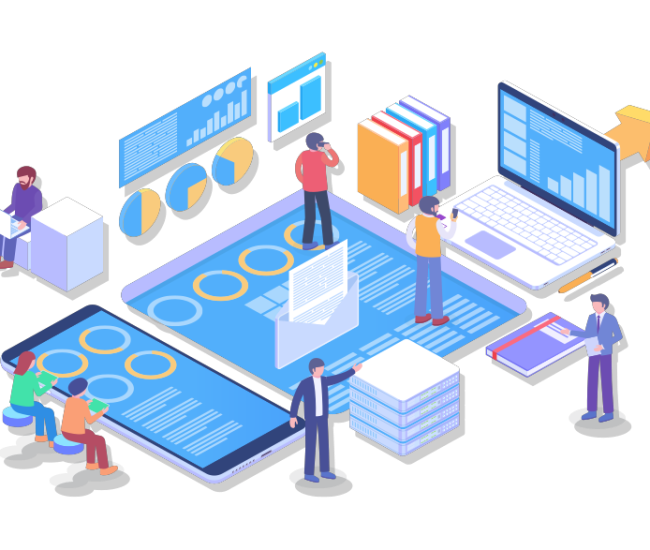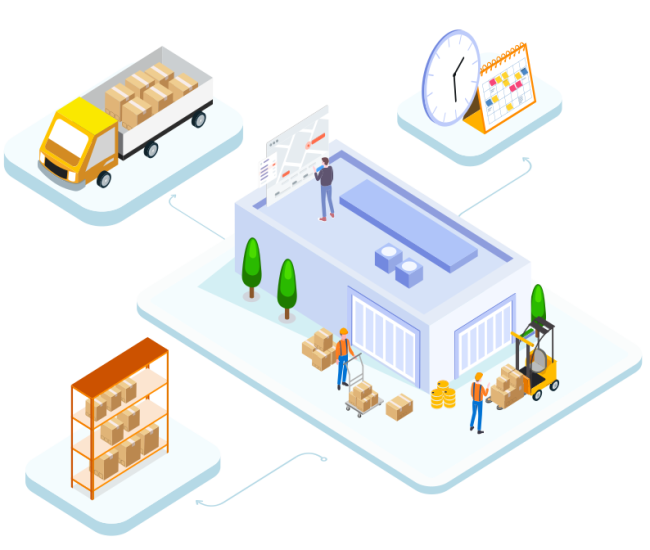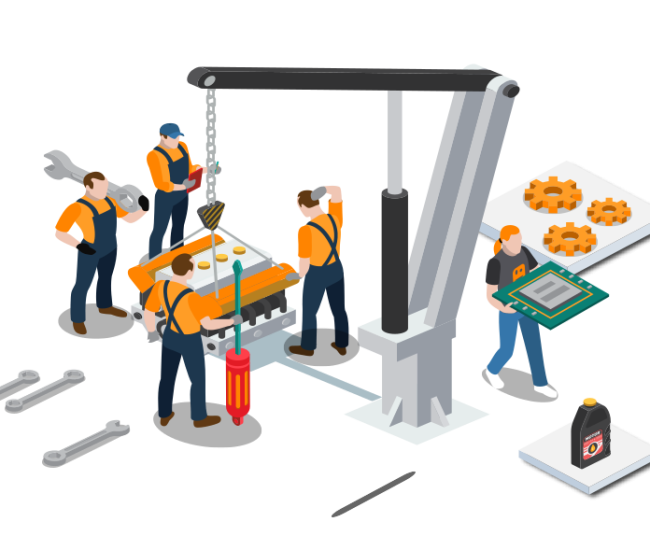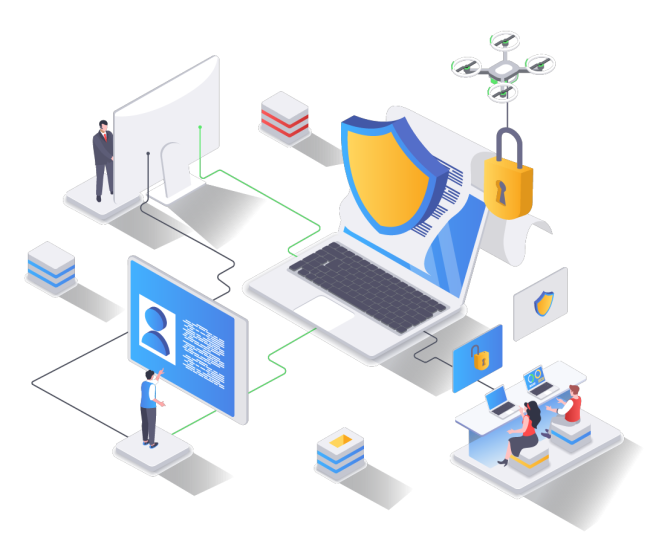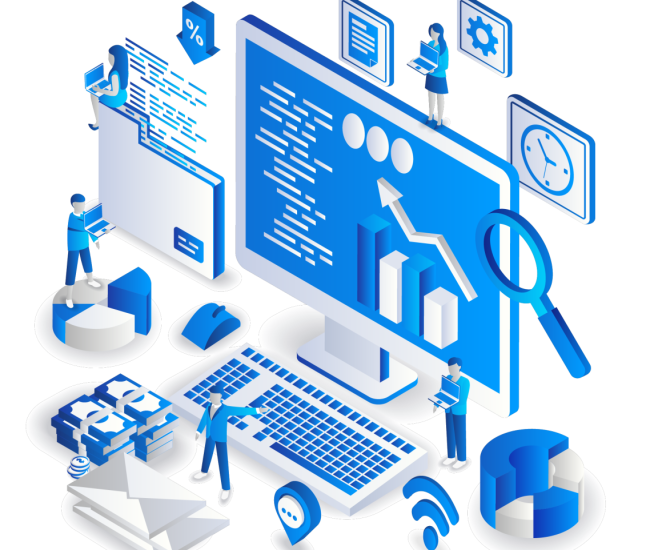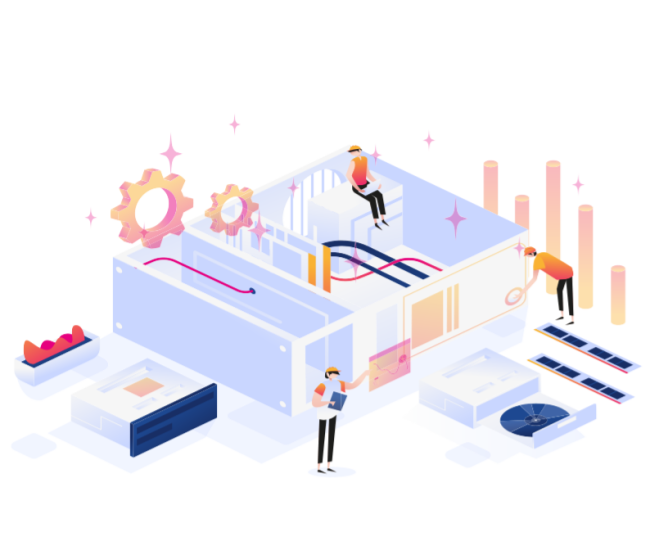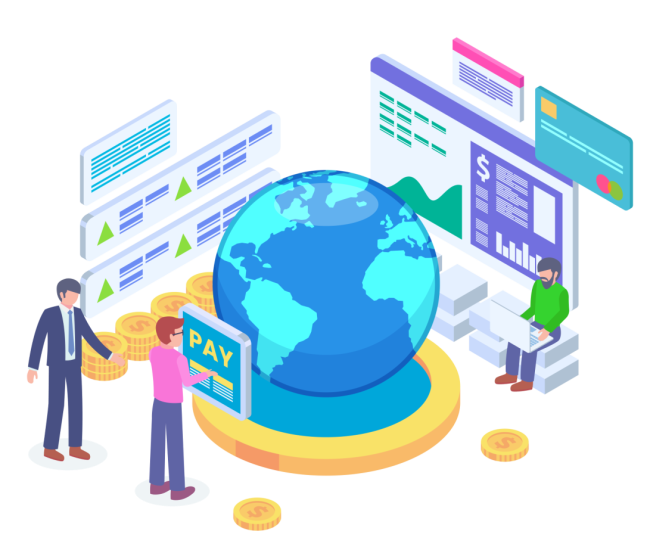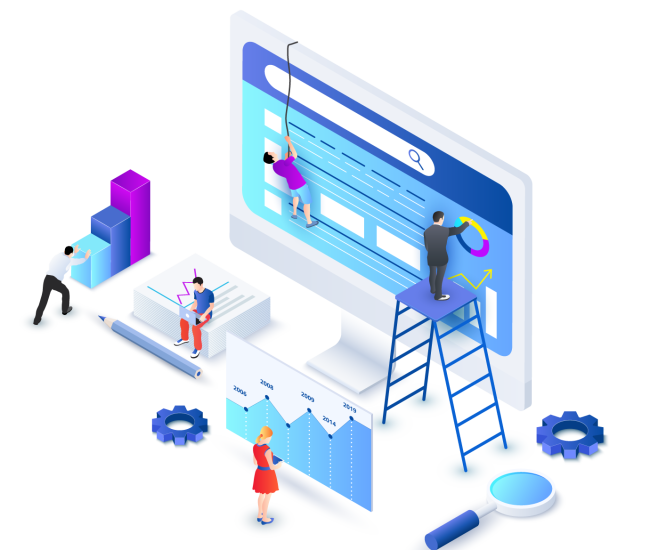 Companies often struggle with disconnected systems and data silos, leading to inefficiencies, duplicate data entry, and difficulty in accessing accurate information.
Lack of Integration
Manual processes, such as data entry, inventory management, and financial calculations, are prone to errors, time-consuming, and limit productivity.
Manual and Time-Consuming Processes
Without real-time access to accurate data, companies face challenges in generating timely and meaningful reports.
Inaccurate or Delayed Reporting
Poor inventory management can result in stock-outs, excess inventory, increased carrying costs, and lost sales opportunities.
Inventory Management Issues
Inadequate visibility into resource availability and utilization can lead to inefficiencies and under-utilization of assets, labor, and equipment.
Inefficient Resource Allocation
Companies may struggle to gain a comprehensive view of their business operations, leading to reduced control and difficulty in identifying bottlenecks or areas for improvement.
Lack of Visibility and Control
Companies may face difficulties in managing customer interactions, tracking sales opportunities, and delivering personalized experiences.
Ineffective Customer Relationship Management
Companies may struggle with financial processes, such as budgeting, forecasting, and financial reporting.
Inadequate Financial Management
Legacy systems may not scale effectively to support business growth or handle increased transaction volumes.
Scalability and Growth Limitations
Staying compliant with industry regulations and standards can be complex and time-consuming.
Compliance and Regulatory Challenges
We got a perfect solution
Implementing COMMATE will address these problems and bring significant improvements in operational efficiency, data accuracy, decision-making, and overall business performance.
COMMATE is modular, scalable and most importantly easy to use digital platform that makes work more fun!
COMMATE arsenal of modules for each business functions makes it unique as whole business operations can run on one platform. The modules offered by COMAMTE are : Finance/Accounts, CRM, Sales, Purchasing, Inventory, Human Resources, Payroll, Projects, Production/Manufacturing, Fixed Assets, Transportation and more… 
COMMATE runs on cloud and empowers the business to be accessible from anywhere. Thus, providing remote work possibilities with the same trust as work-in-office.
COMMATE with it's fully integrated, transparent business platform helps business work efficiently, effectively and take the right decisions in timely manner.
Complete End-to-End solution
We provide a complete solution that meets your business objectives. COMMATE helps you manages your business from a single integrated platform that is secure and easy to use.
COMMATE is built on proven web technologies that make it robust and run literally on any OS or any browser. It is a ZERO client installation product that just needs a browser to run the business!
A solution for every industry
COMMATE is designed to work for a variety of industries. With modular architecture and flexibility to create additional modules, COMMATE can be used literally for any industry!
General Ledger

Journal/Payment/Receipt Vouchers

Accounts Payable (A/P)

Accounts Receivable (A/R)

Aging Accounts

Multiple Cost Centers

Budge Management
Cash Flow Management

Expense Claim Management

Petty Cash Management
Check Printing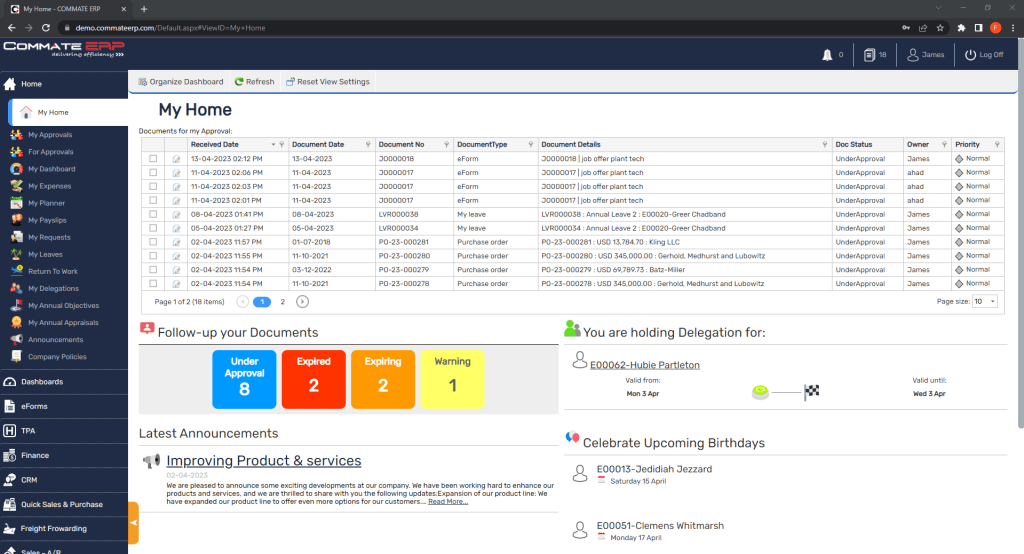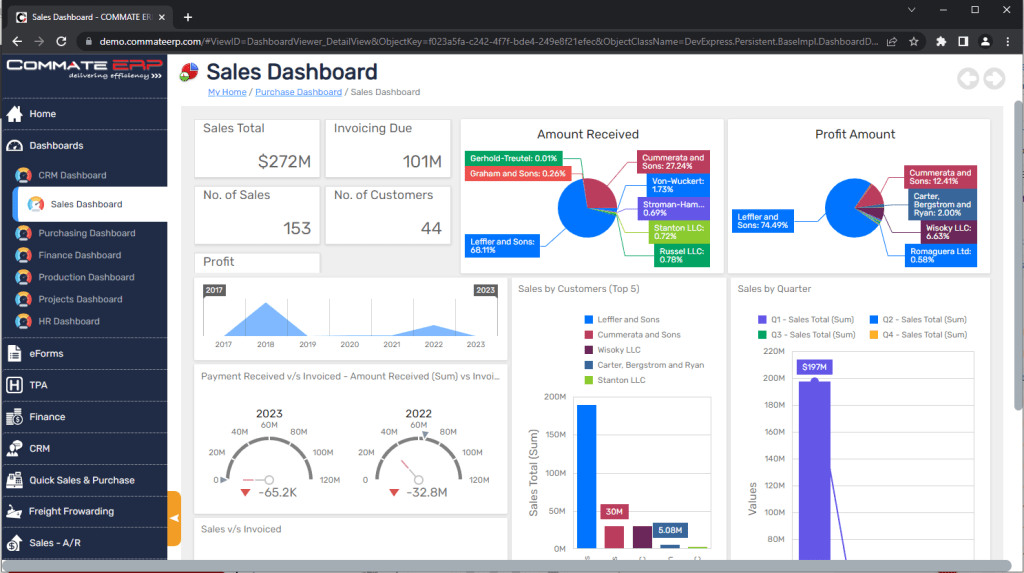 General Ledger

Journal/Payment/Receipt Vouchers

Accounts Payable (A/P)

Accounts Receivable (A/R)

Aging Accounts

Multiple Cost Centers

Budge Management
Cash Flow Management

Expense Claim Management

Petty Cash Management
Check Printing
Time & Attendance Management
Roster & Shifts Management

Payroll for Employees
Payroll by Site/Office
Adhoc Entries in
Payroll Run

Payroll Payments

PDF Payslip with Encryption
Parameterized Payroll Setup to support local compliance
Import Data from Excel – Adhoc Entries 
Import Data from Excel – Timesheets
Tightly Integrated Complete Process
Leave Requests
Other Requests

Expense Claims

Pay Slips Repository

Document Repository

Personalized Calendar

Tasks & Reminders
Personalized Dashboard
Self-Delegation
Annual Objectives
Annual Appraisals
Access to Company Policies


CRM Dashboard

Sales Dashboard

Purchasing Dashboard

Finance Dashboard

HR Dashboard

Create KPIs on fly

Pivot Charts on fly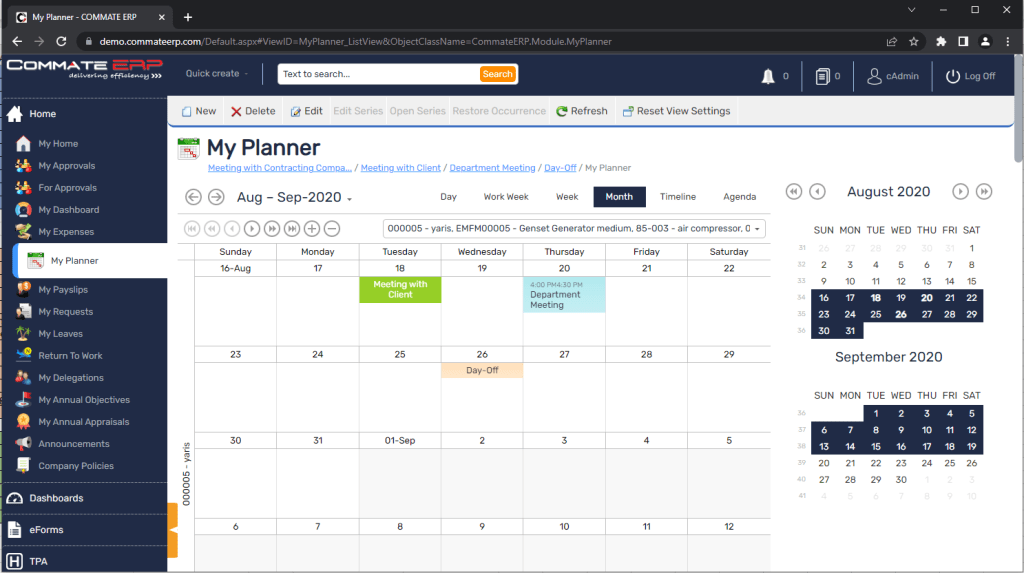 Plan your work the way you want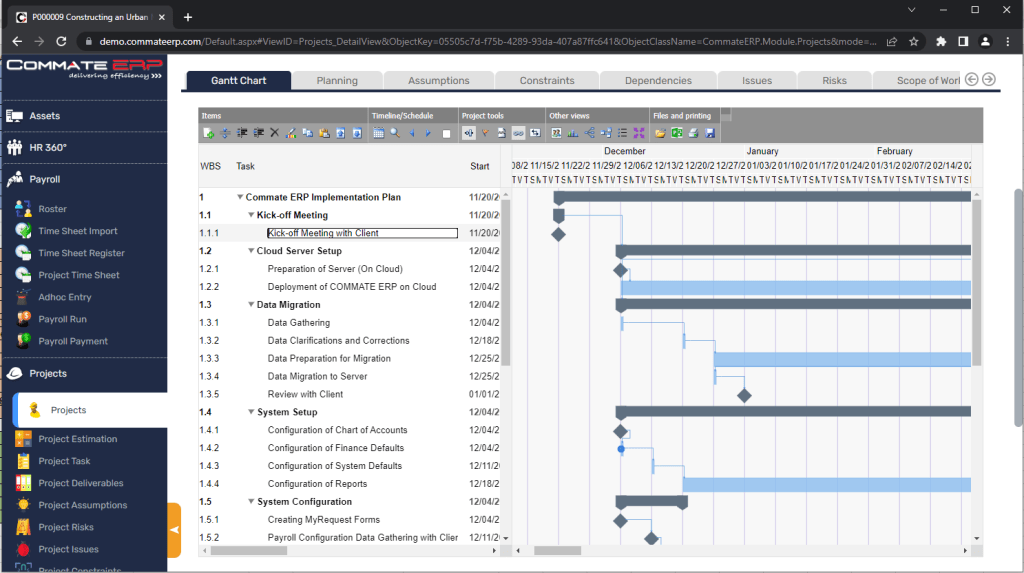 Easy to use Project Management
Generate Tax returns
Tax Return report includes detailed transactions that support returns
Create Tax categories as per your local regulations
Comprehensive CRM

Sales Orders Management

A/R Invoicing

A/R Down Payment Invoicing

Material Delivery

Material Returns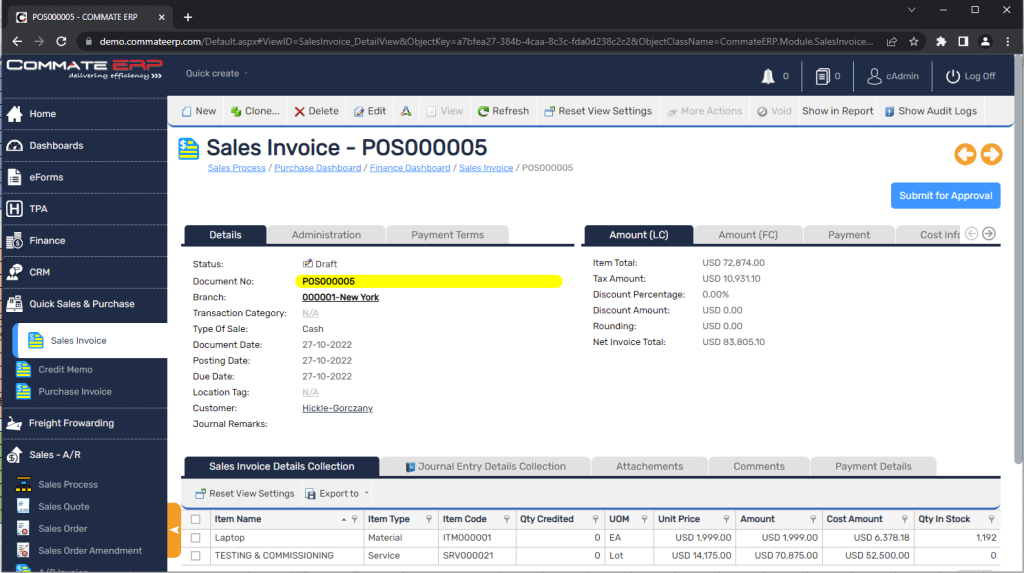 Quickly create your Invoices
Manage Multiple Bank Accounts

Issue Letter of Credit / Letter of Guarantee

Reconcile Transaction with Bank

Bank Letter Templates for quick action
Request for Quotation
Material Request
Purchase Request

Purchase Orders
Management

A/P Invoicing

A/P Down Payment
Invoicing

Goods Receipt

Goods Returns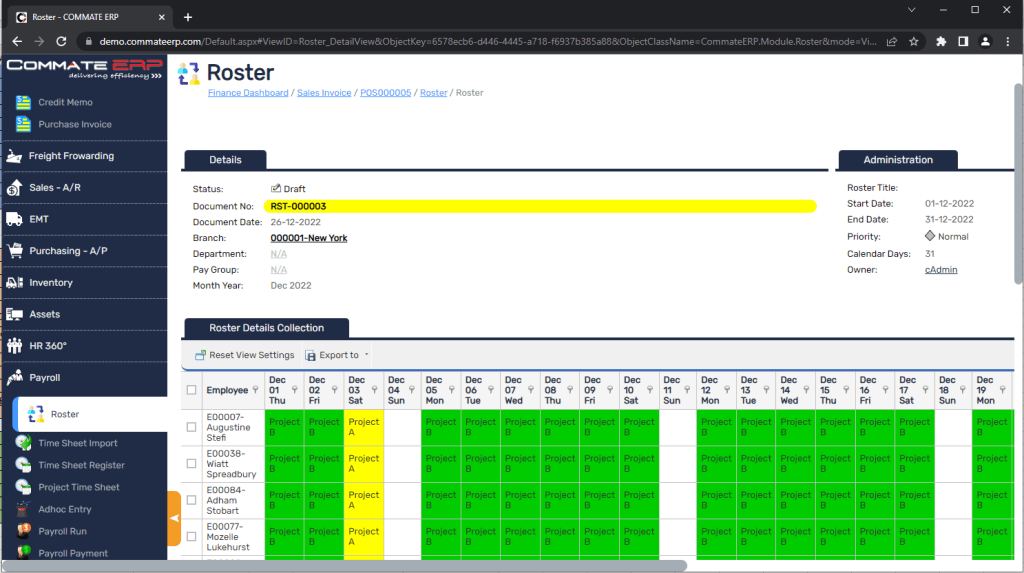 Fully featured Duty Rosters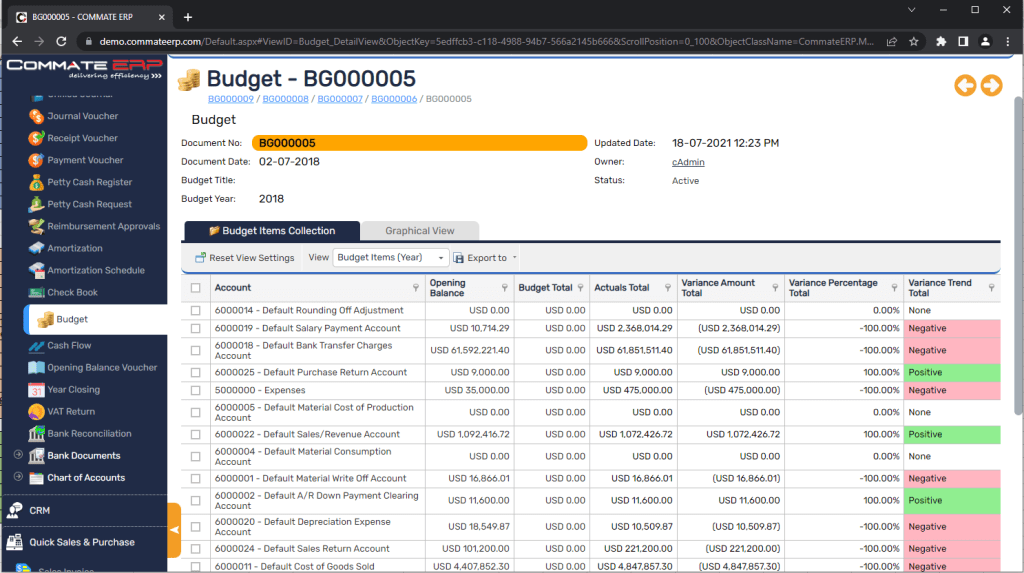 Complete Visibility on Actuals v/s Budget
Multiple Warehouses
Internal Transfers

Material In/Out

Damaged Goods Management

Inventory Write-Offs

Inventory by Project/Sales Order

Batch & Expiry Date wise Inventory
Multiple UOM

Detailed Inventory Transactions
Create & Track Maintenance Request

Create Maintenance Job Cards

Assign Jobs to team

Maintenance Schedule

Equipment Gate Pass

Track Equipment/Vehicle Movements

Accident Register

Fuel Manager

Equipment & Vehicle Document Management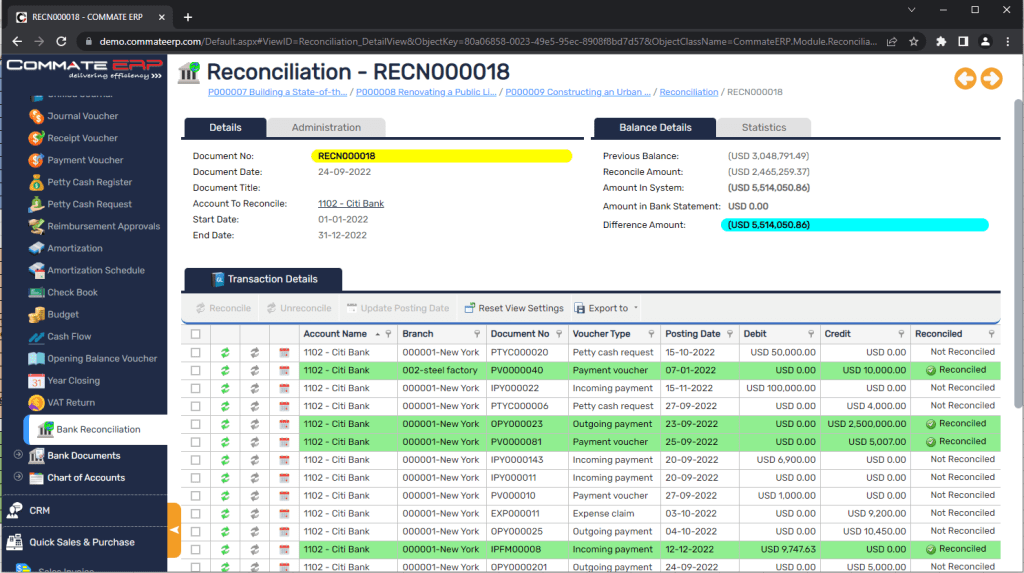 Seamless Bank Reconciliation
Create Multiple Projects

Create Project Plans using Gantt Charts

Track Project Process on Gantt Charts

Allocate Resources to Projects

Multiple Sites in a Project

Google Maps to show Project Sites
Production Request
Production Order
Raw Material Requisition
Final Goods Delivery
Quality Control Checks
Manage Multiple BOMs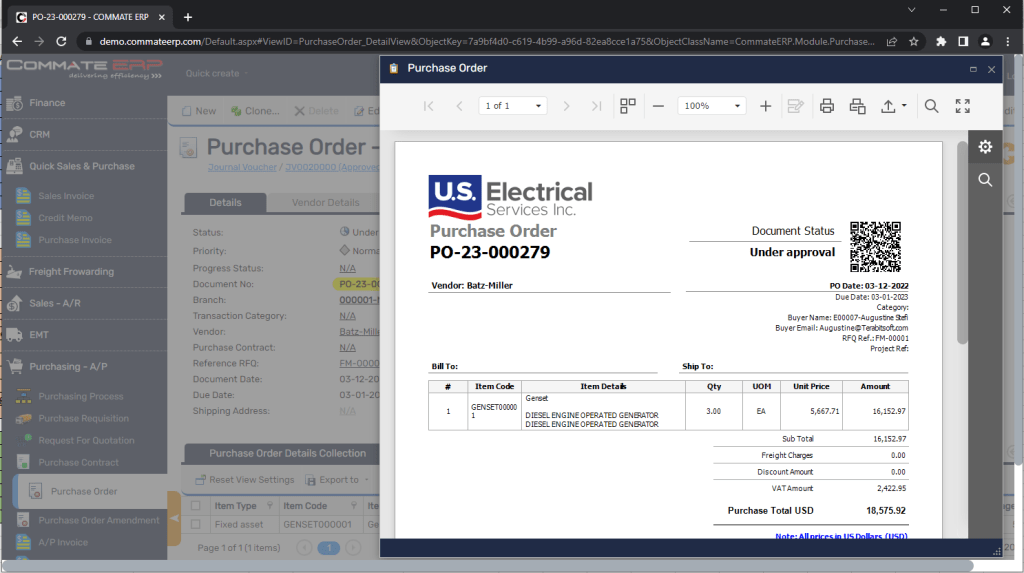 Powerful Reports with Export to Excel/PDF options
Assets Inventory & Tracking

Assets Assignments

Assets Maintenance

Assets Depreciation
Assets Amortization
Cyber secured by design
COMMATE has been designed keeping cybersecurity in mind, it strongly takes care of many type of attacks thus making it robust and resilient. We help businesses make the digital transformation a breeze and with the Cybersecurity-by-Design incorporated in COMMATE, you can securely access your business anytime, anywhere!
RESILIENT TO DDOS ATTACKS
RESILIENT TO SQL INJECTIONS
RESILIENT TO CROSS SITE SCRIPTING ATTACKS
RESLIENT TO MAN-IN-THE-MIDDLE ATTACK
RESILIENT TO REMOTE CODE EXECUTION
WE ADD VALUE TO YOUR BUSINESS
Our clients have gained efficiency, transparency, mobility and many more advantages by running their business on COMMATE. Whether you are a business owner or a manager or an employee of a company, COMMATE will help you get more than what you have been getting today.
Million Transactions Passed
Users are accessing COMMATE
Get in touch with us and we will be able to help you understand COMMATE and show how you can increase efficiency of your business operations!